Are you a company or small business looking to 'give back'? Corporate responsibility is something we hear a lot about but not something we see a lot of! There's the occasional press release about billionaire businessmen being philanthropic and giving something to charity, or supporting this or that cause.
But I'm not talking necessarily about the Bill Gates call for business to donate a percentage of profit to charity. Not all businesses – particularly SMEs – can afford to … much as they might like to.
What if you're a business with a big carbon footprint? Even a not so big one? Any business running fleet motor vehicles or whose staff do a lot of travel, or who have sales staff on the road, would fall into this category. Any business running computer equipment would too – that covers just about everybody these days! And we all use power!
International companies have begun purchasing areas of land in Australia where they offset their carbon by planting trees. Now you don't have to be Bill Gates to do the same – with the commencement of a fantastic initiative by the Condamine Alliance in Queensland!
Condamine Alliance is a not-for-profit Natural Resource Management organisation that was established in 2002 to manage the country's natural resources.
The Condamine catchment is located at the headwaters of the Murray–Darling basin in southern Queensland. Extending from Queen Mary Falls near Killarney in the Border Ranges through to Chinchilla on the north western edge of the Darling Downs, the Condamine River is approximately 500kms long and is a tributary of the Darling River – the longest river in Australia. The Great Dividing Range, rising to 1,400 metres in places, forms the eastern and northern boundaries of the region.
The 2.75 million hectare Condamine catchment produces food for the nation and the recent mining and resources boom coupled with urban expansion and population increases have compounded environmental pressures and the need for the effective management of natural resources in the region. A wide range of birds, frogs, reptiles and mammals reside in the catchment.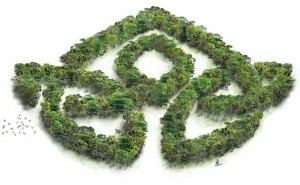 Into this landscape comes Treehenge. Treehenge plans to repair habitats across Australia with their first plantation being at Gladfield in the Condamine River Basin.
Treehenge is a forest of remembrance and regeneration, a living symbol of land restoration that is large enough to be seen from space.
It celebrates life, but most of all, it supports it. The Condamine Alliance are taking a tired, degraded region, and breathing life into it again, one tree at a time, attracting native plants and animals back to the area.
You can become a living part of the henge by dedicating a native tree in honour of a special person, pet or momentous occasion, such as a birthday, wedding or in memory of a loved one who has passed on.
Or plant one or more trees each year to off-set your carbon! It's just $160 to dedicate a tree that will live for 30 years and beyond. It will be nurtured to become a vital part of a native forest, regenerate the land and contribute to the health of the planet.
By being part of Treehenge you'll leave a lasting memory that will help a region grow, a gift of life that gives back more and more each year.
What a fantastic idea and I can't wait to see how the henge grows and develops over the years!
(With thanks to Andy Greening, General Manager of Treehenge for the info!)