If your computer is behaving wildly or you find you're not communicating as well, it could be because Mercury went retrograde on 24 November – and will stay that way till 13 December.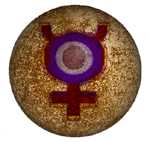 Mercury rules communication – so it is said that during the three or four times a year these planetary movements happen this area of our lives can be affected. In the 21st Century the means of communication tends to be phones and computers. I have heard a number of people complaining in the last week about their computers freezing, running 'slow' or emails not working. And even my own attempts at verbal communication are going a bit haywire and missing the mark!
It's often said that if you can avoid signing contracts or making other commitments at this time then do so as they may need revision when Mercury goes direct again.
It's said that this is a time of contemplation, reflection and review.
I'm actually not a big 'astrologer' but I do find Mercury Retrograde a fascinating time and I use it to just watch and see what eventuates. I don't usually know when retrogrades occur but whenever I begin to notice a pattern of complaints I check the dates and sure enough, Mercury is up to his tricks!
For a great article and more info see Molly Hall's About page.
There's another great article here.