Can someone please explain to me why, when my daughter says "We shouldn't really be recognising Halloween now" she's told "It doesn't matter"? Why doesn't it matter? If we said it's not important to recognise Hanukkah in December or Christmas on December 25 could you imagine the backlash?
But when a pagan child in the Southern Hemisphere says that right now we are in Beltane and not Samhain (as in the north) she's told effectively to get over it.
I understand the Americanisation of our culture and that's a different issue, but Halloween is a Christianisation of the pagan Samhain – a time to celebrate the world moving into darkness… Which just doesn't reconcile with our season of new life right now in the south. (I also understand some pagans are traditionalists and follow the northern seasons, so to those I say please understand we follow the seasons as they fall here in the south.)
I admit that this year I bought some lollies to give to any random child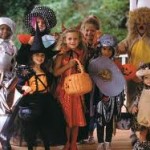 who knocks on our door on October 31, but frankly I couldn't stand any longer having to turn away tiny children whose parents have enabled them to be indoctrinated by what they see on TV.  I will counter the 'dark energy' as I did last year with a Beltane altar at the door.
(By referring to 'Americanisation' of our culture, I am referring in this instance to the practice of recognising 'Halloween' at this time of year which was never part of Australia's culture, and to trick or treating specifically which was started by children in the US in the 1940s and actually was never part of the original Samhain tradition.)
But again, if it's okay for a Southern Hemisphere kid in a season of birth to celebrate 'death' why is my pagan child told when she tries to explain her spirituality, it doesn't matter?
Can someone please explain this to me?
After all this is OUR time … Our spirituality continues to be eroded by commercialised and Christianised observances and we aren't allowed to complain? Or have an opinion?
Imagine a Muslim letting it slide…. Or a Jew…. Or for that matter a Christian should we tell them the observance of one of their spiritual times on the wrong date "didn't matter… It's just for fun"?
If we continue to allow non-pagans to tell us 'it doesn't matter', eventually it won't. Our spirituality will continue to be diluted and that will be a loss not just for us but the world as a whole.